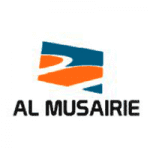 Overview
Founded Date January 1, 1900

Sectors Trading and Contracting

Posted Jobs 0

Viewed 689
Company Description
Al Musairie Trading and Contracting Co.
Al Musairie Trading and Contracting Co. From our humble beginnings in Kuwait in 1965, we have grown leaps and bounds, expanding our operations to Qatar in 2004 & Bahrain in 2007. We are now a contractor of choice, with over 50 years of experience with many prestigious clients in the Gulf Oil & Gas and Defense Sectors.
Al Metairie has been one of the leading construction firms in Kuwait since its inception in 1965. Al Musairie's core values of total quality and safety have been a pillar of the company's operation for over 50 years, involving the rental and leasing of various equipment related to the civil and mechanical construction and construction sector. In addition to the vast experience as a Prime contractor with leading Petroleum companies and U.S. Military, Al Musairie has performed several works in the capacity of Prime-Subcontractor for substantial jobs executed in the Oil sector & the U.S. Military. Further expansion in Qatar with Al Musairie offices in Doha and Bahrain.
Our Mission Al Musairie Trading and Contracting
Al Metairie provides our customers with quality construction, technical, and management services. We will strive to implement a long-term relationship with our clients based on safety, quality, and timely service. To fulfill this mission, we will treat all employees fairly and involve them in quality improvement to ensure responsiveness and cost effective work execution. Our cheerful focused, and responsive attitude will offer the highest standards of service, value, and quality to all our customers through our commitment to excellence and performance.
Vision Al Musairie Trading and Contracting
Our prime objective is to be an injury-free organization for the benefit of our workers and their families. We will achieve this through an integrated Safety Management approach, which focuses on people, technology, and facilities—supported by management commitments as the prime driver for ensuring a safe and healthy working environment. One of the leading Contracting Companies providing High-Quality Construction, Specialized Facility Management, and comprehensive Heavy Equipment/Vehicle Rental and Leasing services.
KUWAIT OFFICE
Al-Musairie Nat'l Trad. & Cont. Plot # 90E Ahmadi P.O. Box: 47976 Fahaheel, 64030 Kuwait.
Hotline no. : 1802 800
Telephone no. : +965 2398 6225
Fax no. : +965 2398 6743
QATAR OFFICE
Al-Musairie Trad. & Cont. Qa. Street 52, Gate 248, Industrial Area P.O. Box: 24820, Qatar
Telephone no. : +974 4460 1214/ +974 4460 1221/ +974 4460 2917/ +974 4460 1551
Fax no. : +974 4460 2980
BAHRAIN OFFICE
Al-Musairie Cont. SPC Office 126, Building 106, Road 20, Block 331, Bu Ghazal, Kingdom of Bahrain
Telephone no. : +973 17704615
Fax no. : +973 17934615